I love this Neewer Ring light especially for the price. I own 3 of them!
Get it on Amazon USA Amazon UK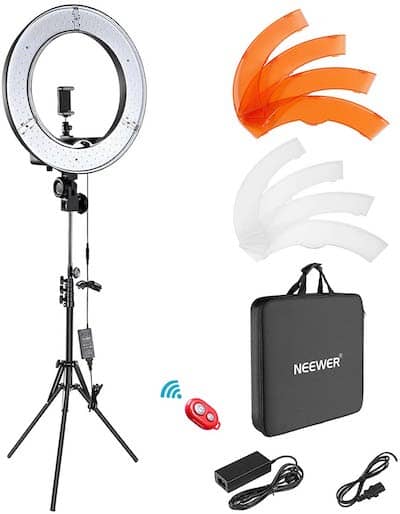 Why 18 inches not smaller? Because it's multi-use, stick it behind your Webcam for Zoom calls, but big and powerful enough to spread the light wide for talking head Videos and Interviews.
You don't have to use it behind the camera, you can put it out at 45 degrees for lighting a person / yourself or the background.

You can buy extra heads later if you want say a 3 light studio set up.
It's dimmable, with daylight balanced LED bulbs, comes with a softening ring to make you look better, a reverse folding compact stand with hot shoe, smartphone holder, bluetooth remote plus a carrying case.
For the price it's a winner and a great way to add sparkle to your Videos!
Get it on Amazon USA Amazon UK