Local Video Marketing with Facebook Video Ads
This virus is terrible and the lockdown is tough for business owners, especially Local business!
But I do see some Local Businesses really serving their community and thriving.
Others are learning to pivot to survive .. for example:
Toy shops that move online for the first time to sell Puzzles (there is huge demand for Puzzles, board games and also Ukelele's I have read, as folks need things to do at home!)
Fitness coaches & many more teaching remotely online and keeping their local customers served until they can re-open.
Therapists offering Skype sessions (my wife is a Psychotherapist and is hosting zoom groups)
Local Businesses offering discount vouchers to trade in when they open up again.
Simply teaching and helping folks online out of a desire to serve.
Growing their social media pages and building their email lists as an investment for the future.
A local to me Pizza restaurant .. serving take away through their front door, with bike couriers arriving every 15 mins or so.
My neighbor offers mobile bike repair and he has TOO MUCH on his plate since the streets are so quiet in London, and with movement restricted everyone has taken to their bikes.
Speaking of bikes the good news is Facebook Video Ads are WORKING! As others pull out of running Ads .. the costs have gone down.
Local Marketing Expert (and Video Hero guest trainer) Charles Gallagher sent me this bike example ...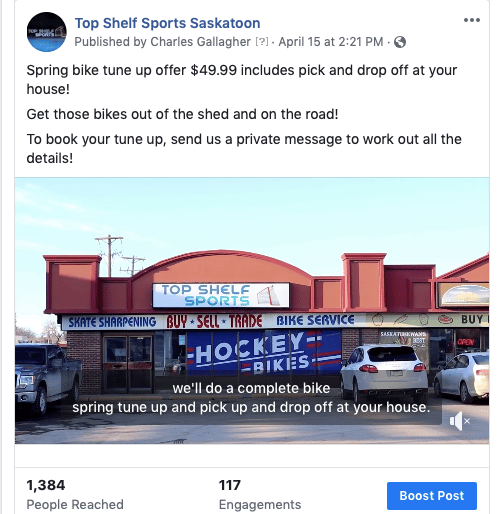 Charles wrote me:
"Here is a screenshot of a brand new ad. Posted Thursday. Ad made Friday and approved right away. Spent $4 to this moment. 5 leads through Messenger. All for the bike tune up. One person has an additional bike repair. One person has 5 bikes. So estimated revenue is $470 from a $4 ad spend."
Local Video Ads are a super low cost and effective way of reaching customers FAST in defined local area (or anywhere) but you do need the right offer and targeting.
The Video can even be a single take smartphone Video shot by yourself or sent to you by a client.
This is all covered inside the Local Video Ads workshop (on demand training - watch it today!)
If you want to jump on this opportunity now (for you or your clients) please join us inside plus inside the Local Video Ads Private group too.
You will get direct feedback on your strategy ideas and your Video issues, Ad copy, and targeting!
An Ads agency would probably charge you hundreds or more like thousands for such ongoing support.
You will also access the step by step Local Video Ads Workshop .. that you can get through in a day and have an effective Ad running in 24 hours or less that gets you a RETURN!
👉 See the deal (Coupon code expires soon)
What you'll get today:
The 2 x 90 mins on demand Workshop session recordings.
It's step by step fast track training how to create a winning Local Video Ad strategy & offer and master the Facebook Ads Manager.
Recorded just two weeks ago so it's bang up to date! (Most FB Ads courses are out of date).
No need to find time to sit through 50 videos on your own (that you'll never finish) You'll get the essential training via two x 90 mins expert sessions.
Time coded so you can jump to the different sections you need as you go through the Local Ads process yourself.
You get the recordings, slides and resources to view anywhere, anytime.
Slides, cheat sheets & resources.
7 point winning Ads script template (just fill it in with your own business offer)
Links to 11 real world Local Video Ads that are working right now on Facebook.
24:7 - 365 days/yr access inside your library.
It's interactive, you get access to the Local Video Ads Private Facebook group for all year round learning and support (invaluable!)
30 Day Money back guarantee
So .. no excuse folks :)
👉 See the deal (Coupon code expires soon)
Don't sit and wonder if Ads will work for you at this critical time .. get cracking, learn Charles's system, get feedback, get your easy to make Video Ad running and see the results.
ps. Diane recently posted this in the group .. she stopped her Ad for a while due to TOO MANY leads!